Missions Committee
"Therefore, go and make disciples of all nations, baptizing them in the name of the father and of the son and of the holy spirit, and teaching them to obey everything I have commanded you, and surely I am with you always, to the very end of the age."
-Matthew 28:19-20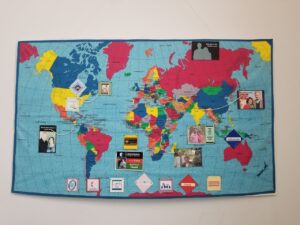 Our Commitment
Here at Covenant, we take commitment seriously. Our Mission Committee makes sure that 10% of all tithes and offerings received into the general fund, go directly to missions that will indeed reach "all nations."
Promised
We have twelve Missions classified as "Promised." These Missions receive contributions twice a year and are budgeted in for the year. We
support Missionaries all over the world, including: Tanzania, Nepal, India, Costa Rica and a country that can not be named for their safety.
Some of our International Missions include:
HOPE International and Wycliffe Associates.
We also support a few closer to home, including:
Allentown Rescue Mission, CareNet of Carbon County, Bath Area Food Bank and New Bethany Ministries.
Intended
When we are blessed by giving exceeding what is budgeted, we are able to support these ministries as well:
Mercy Ships, UMCOR US Disaster Relief, Global Disciples, Meals on Wheels, Christian Motorcyclists Association, Push the Rock and a local prison ministry.
We also help support "Because You Matter" meals at our sister church First United Methodist Church (Wind Gap).
Our Missions Committee meets on the third Monday of the month. During these meetings, we prayerfully make decisions about how to best support our Missionaries. They are part of the Covenant Family and we do our best to meet their needs anyway we can. If you are Mission Minded we welcome you to join us! If you have any questions about any of our Missionaries or organizations we support, please feel free to contact us any time.